The Titanic child theme is my last real attempt at creating a full fledged theme for the Thematic Theme Framework. This is the responsive child theme my site is currently built on, so technically you are looking at the demo right now. This is yet another theme built on my own Responsive Base which is a starter child theme for Thematic aimed at speeding up development times.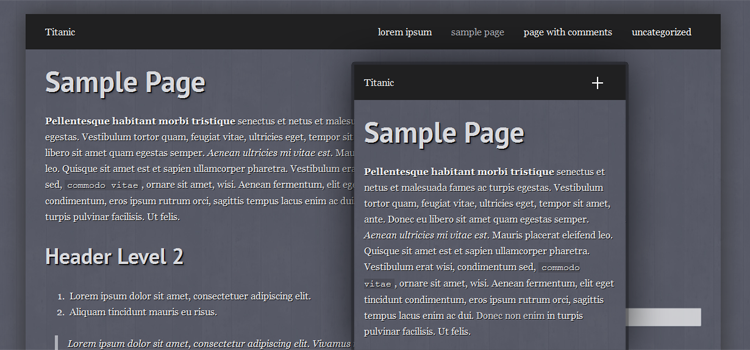 Titanic Highlights
This responsive theme is packed with best practices involving developing child themes for Thematic I have picked up in the past few years. The one thing that makes this theme stand out is the way the menu works, it uses a footer anchor approach which is not currently set up for drop downs.
The theme is also built on Sass and Compass which hopefully you are using as it will make developing sites quicker, even if you just use it for the ability to import and compile.
While creating this theme, I made my best effort to make it compatible with the new Thematic HTML5 Plugin created by Karin Taliga. This plugin is awesome for converting some existing elements in Thematic to HTML5 without losing any functionality. For anyone that has looked into this (me), it is a pain to do and she has done an amazing job.
If you want to know every detail about this theme, you will probably want to review the information on my Responsive Base theme since they share all the same features.