There are occasions where I am asked to check out a webpage and review ways it could be stronger. While this can be a fairly in depth process, you usually can see a lot at a quick glance and it definitely helps to have the right tools. The problem is I frequently get asked when I am not home with the comfort of all my front-end development or search engine optimization tools I have come to rely on.
Recently on a family visit that was suppose to last a few days, those days quickly turned in to a months time. It was painful to not have all my tools available that I use daily. That is when I recalled reading a article about creating an SEO Thumbdrive by a SEOmoz.org user, while the article focuses on SEO tools, I also needed the front-end side of things.
Enter Portableapps.com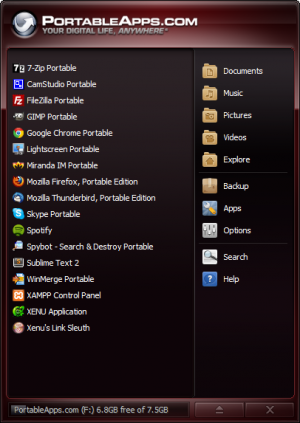 Portableapps.com is a free resource which allows you to use free/open source applications such as web browsers, email applications, and a bunch of other useful tools.
The installer sets everything up perfectly, just make sure to install and search for the apps through its application interface so it knows to handle the updating when updates become available. The fact it will auto update the applications is by far one of the handiest parts.
While my checklist might be a little big, I did end up grabbing a bunch of stuff I might need eventually, obviously these would be some good suggestions.
Customizing Firefox Portable
With the apps installed, next up is customizing Firefox. Still, after all this time, Firefox is my go to choice when it comes to developing, mostly because I am more comfortable with Firebug and other familiar add-ons. Make sure be in your Firefox Portable version while snagging your needed add-ons. I would suggest having a few of these favorites.
Other Portable Friendly Tools
Last but not least, I couldn't forget my last two must have tools, both which happen to run perfectly on a USB flash drive also. Just make sure to drop them in the /PortableApps/ folder so they are usable from the PortableApps interface, the only thing is they won't auto update obviously.
Sublime Text 2
By far the greatest thing I have done in a while is switching to the text editor Sublime Text 2, it is bad ass and I still have a ton more to learn. However, it installs beautifully on a USB flash drive, and combined with Dropbox you can set up your Sublime Text user settings at home so you can import them to keep them up to date when needed.
Xenu Link Sleuth
Still an amazing tool after all this time, Xenu Link Sleuth is the perfect link checker which also provides a ton of data. Fast and Easy.
I have a feeling I will update this with a few more tidbits of information, but this resource of links will surely save me a ton of time when I lose or need to create another portable drive.
Anything I missed?